Jennifer Johnston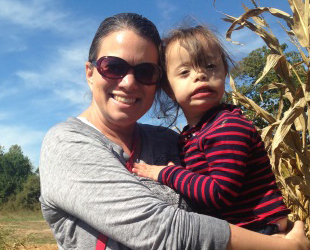 Jennifer Johnston grew up in Central Illinois and moved to Springfield, Missouri in 1999. She currently teaches English as a Second Language at Missouri State University. Jen is married and has to children age 6 and 4. Her youngest, Isabella, has Down syndrome.
Jen has been on the DSGO board since 2012 and is currently the BOD Secretary. She oversees the Education area of operation and is co-Chairperson for the Spring and Fall Conferences. She is passionate about advocating for inclusion and she provides support at the board meeting by accurately dictating the meeting minutes. Jen was drawn to the DSGO after her daughter as born, she wanted to be part of the organization that was such an invaluable resource for her and her family. She wanted to help bring about a change in the community's perceptions of people with Down syndrome.
How is Jen supporting the mission of the DSGO?
"I am working hard to get the community, and especially the public schools, to see that people with DS can contribute and accomplish so much. As a member of the Education committee, I worked to bring two national speakers to Springfield to speak about best practices in inclusion.