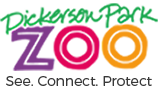 It is that time of the year again when Dickerson Park Zoo is hosting our 14th Annual Dreamnight at the Zoo! As most of you know, this is a very special event for us here at Dickerson Park Zoo; and, we would love to see your amazing children and their families come out for a night of family fun!
Please note this is not a publicized event. Admission to the zoo is by invitation only, and an RSVP must be made online in order for your families to attend. The event is "an annual, free evening out at the zoo, exclusively for
children (ages 18 and under) with chronic illnesses or disabilities, their parents, as well as brothers and sisters."
As a participating organization, DSGO will RSVP for the family through an online form. Please register here with your child's name, and total number of attendees. Each child will then be added to the will call list which will allow them and their family in that night. DSGO WILL REGISTER FAMILIES ONLINE, THERE WILL BE NO TICKETS MAILED. Due to the popularity of the event, only 1500 guests will be admitted into the zoo (the children and their families). It is a first-come, first-served basis. Please RSVP no later than NOON on May 27, 2018 at the link provided. If they sell-out you will be put on a Wait List. DSGO will let you know via email IF YOU ARE MOVED TO THE WILL CALL LIST BY Thursday, May 30.