Down Syndrome Awareness Month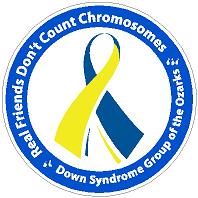 Encourage your schools and businesses to participate in a Dress Down for Down Syndrome day. Invite a DSGO Board of Director or our Executive Director to come speak at your schools or civic organizations. Education, Advocacy & Awareness.
Check out these great supporters:
June Calfee w/ Origami Owl
Jessica Williams w/ Usborne Books
Cammie Davis w/ Scentsy
First Home Bank & Central Bank of the Ozarks will be hosting Dress Down for Down Syndrome days!