October is Down syndrome Awareness Month
It is a month where all over the country, people with Down syndrome are celebrated! Let's show Southwest Missouri how individuals with Down syndrome are 'More Alike Than Different'.
Here are just a couple of things happening this month that you can get involved with.
Support Businesses Who Are Giving Back
Check out the local business or small business owners that are giving back to DSGO a portion of their sales. We love our supports!
10% of all proceeds from Helicopter Mom sales for the ENTIRE month of October.

June is giving back a portion of proceeds on all OCTOBER SALES. If you purchase the Down syndrome ribbon O2 will donate 100% of their proceeds.

She will be placing a bulk order if local people are interested. She will cover shipping and tax. Contact DSGO if you are interested in getting in on the bulk order.

Order a cake or cupcakes, or even buy a cup of coffee at the cafe and Twenty-One Cakes will donate 10% of ALL sales to the Down Syndrome Group of the Ozarks.
Dress Down for Down syndrome
One way businesses can give back this month is having "Dress Down for Down syndrome" day. Have your employees bring a small donation for the privilege to 'dress down' for the day. We have stickers and awareness ribbons they can wear. Contact us if you would like to take part. Here is a couple of business we already know are doing this. 
First Home Bank
Central Bank of the Ozarks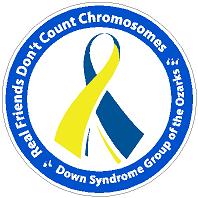 Schools Educating Students
If you are a school and would like one of our Board of Directors or Executive Director to come out to your school and speak about Down syndrome we would love to educate. Get your students involved by reading books about Down syndrome, writing a letter or card for someone with Down syndrome. Just letting the students understand that individuals with Down syndrome are 'More Alike Than Different'.
Down syndrome Daily Facts
The Down Syndrome Group of the Ozarks wants to share with you some facts or myths about Down syndrome each day this month. Come back everyday to see them, or like us on Facebook. Share these with your friends! If there are any questions that you want answered about Down syndrome please email us at info@ozarksdsg.org.